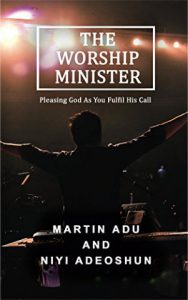 I am pleased to inform you that my first book "The Worship Minister" which i co-authored with my good friend, Niyi Adeoshun, is now available for sale in all leading bookshops including Amazon in both paperback and Kindle formats.
This is not a book about just singing well or about playing a musical instrument with excellence but it is one which will spur you on to becoming a better minister as you use your skills in worship with the aim of pleasing God.
Even though "The Worship Minister" is geared towards those in the worship ministry but anyone serving in any church ministry will find it beneficial.
These are a few comments on the book:
" … a Holy Spirit-inspired 'manual' for worship ministers!" – Victor Kenny Macarthy
" it will lift you up to a new level of awareness in the worship ministry …" – Rev. (Dr.) Chris Tunde Joda
Click here to grab your copy today
Also you can join the Worship Minister conversation here: fb.me/theworshipminister